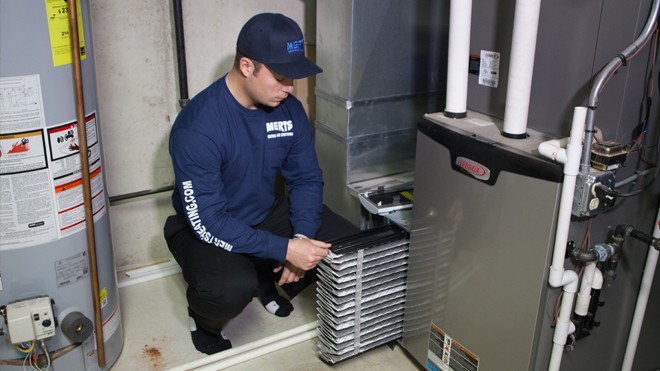 SERVICE OVERVIEW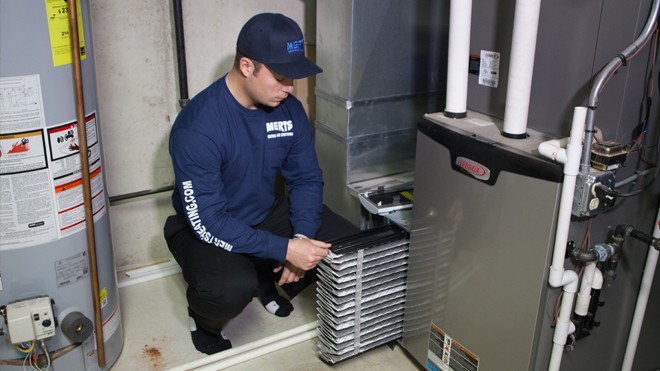 Merts Heating & Air Conditioning is proud to serve the area called the South Chicagoland, but our reach goes far outside the urban area. Merts also serves the furnace and home-heating needs of Will County, IL residents, including the county seat of Joliet. Outsiders may not realize Joliet is the fourth largest city in the state. Home to two casinos, Chicagoland Speedway, and the10-acre Billie Limacher Bicentennial Park & Theatre, Joliet is the self-proclaimed City of Excitement.
FORCED AIR FURNACES
Like just about every other location in the country, these are the mainstay of home heating for Will County homeowners. Most forced air furnaces burn natural gas. Advantages include relatively low upfront costs compared to more exotic forms of heating and natural gas is generally the cheapest fuel.
EFFICIENCY
Furnace efficiency is measured by the AFUE (annual fuel utilization efficiency) rating. If a furnace has an AFUE of 75 it means 75% of the energy produced by burning the fuel goes to heating the home. The other 25% is wasted, usually exhausted through the flue. Not too many years ago furnaces with an AFUE of 50 to 70 were common. Today, an AFUE rating of 80 is considered a minimum. High-end models can be as much as 98% efficient. It doesn't take a degree in math to know replacing your old furnace can save you a bunch of money on your monthly bills.
SO, WHAT'S THE RIGHT NUMBER?
Energy efficiency is great, but it comes at a cost. High-efficiency furnaces are more expensive upfront. During the sales process our staff will show you the numbers so you can see how much money you can save each month. After you see the numbers it's up to you to decide if the efficiency is worth the investment.
KEEPING YOUR HOME COMFORTABLE
This is a tough job in a diverse area like Will County, IL. There are historic homes with specific furnace needs, modern suburban housing, and many rural homesteads. All need to be made comfortable during the cold winter weather the area experiences every year. Merts technicians also need to consider the type and quality of construction to provide the most effective and cost-efficient furnace.
DEPEND ON MERTS HEATING & AIR CONDITIONING
Whatever type of home you have and wherever it's located in Will County, IL, Merts has the resources to serve your heating needs. Residents of Lockport, Crest Hill, Bolingbrook, Crete, and many other communities can depend on us. Our motto is, "Quality and Honesty Since 1952." Let us show you what we mean by choosing Merts for all your furnace repair, replacement, and maintenance needs.